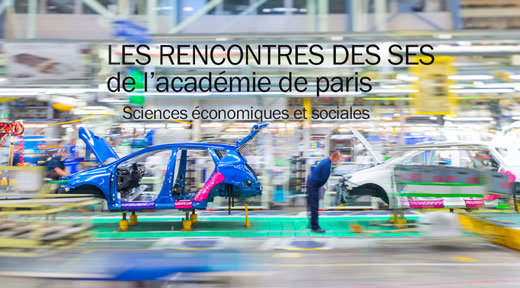 Rencontres des SES 2014
The SES Forum was created by the French Education Ministry (specifically by the Paris education authority and the CDRP or Paris Regional Teaching Documentation Centre), to raise awareness among sixth-formers of the main economic issues, and teach them how to decipher current affairs.
The event gives students of social and economic sciences the chance to meet economists, sociologists and other notable figures from the economic world, and ask them questions about current affairs and topics on their school syllabus.
In the run-up to the event, students work with their teachers to prepare questions on the main themes of the forum, using resources available on the SES Forum website. After the event, students can choose to study a topic in greater depth, with a view to producing a publishable document.
The 3rd SES Forum was held on 21 January 2014 at the Lycée Pierre-Gilles de Gennes in Paris), on the theme of "Business and Production". El Mouhoub Mouhoud, professor at Paris-Dauphine University, hosted the opening conference on the issue of "New Challenges, New Strategies?", notably in the context of globalisation. Mouhoud looked in particular at the different factors which influence investment decisions and the location of businesses.
The conference was followed by a round table on the topic "What type of organisation for what type of result?", with Claude Ménard, professor at Paris I University - Panthéon-Sorbonne, Blanche Segrestin, professor at the École des Mines, and Brigitte Thieck-Regal, professor at the CNAM (National Conservatory for Arts and Crafts) and head of sustainable development at the CGPME (National Confederation of Small and Medium-Sized Businesses). The round table discussed themes such as the internal organisation of a business and its different stakeholders (shareholders, employees, consumers, suppliers, society, etc.), and the priority given to different objectives (role and place of profit, social and environmental responsibility, etc).
Participants at the 3rd SES Forum seemed to agree on at least one main issue: in the current context of business and production, economic, social and environmental objectives can no longer be regarded as mutually exclusive.
9 lycées, 13 classes and 330 students from Paris, Créteil and Versailles took part in the 2014 edition of the Forum, which was organised in conjunction with the Cité de l'Economie et de la Monnaie and the newspaper Le Monde.
For more details go to the SES Forum website
Visit the Cité de l'Economie's Facebook page for photos of the event
........................................
Cover image:
Source: Flickr
Some Rights Reserved by Toyota UK
Published on 2 April 2014.