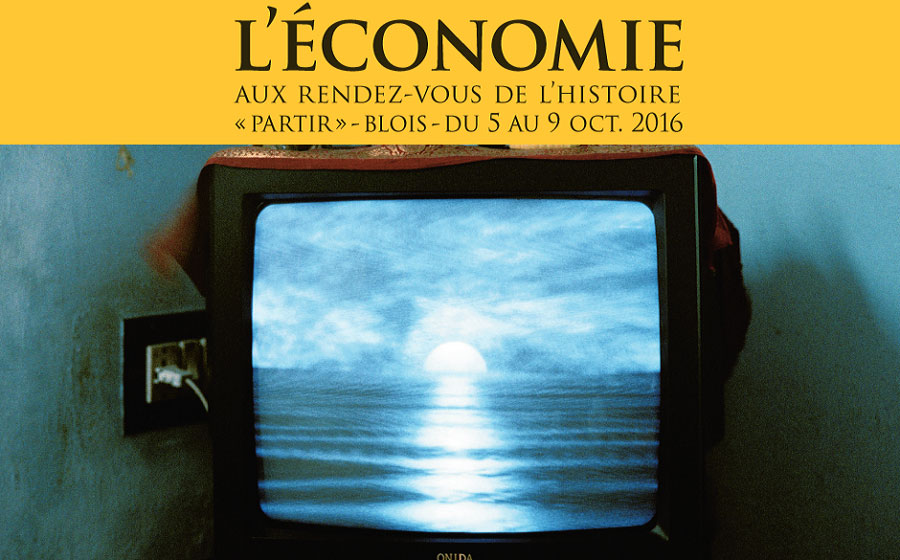 2016 Festival of History
The 19th Annual History Festival will take place in Blois from 6 to 9 October 2016, and this year the chosen theme is "Leaving".
The event will feature a packed programme of activities, including debates, educational workshops, café discussions, a book fair, exhibitions, film screenings, shows, and a special area for young people.
This year's festival also marks the third edition of Economics Meets History - a series of conferences, interviews and book presentations where historians and economists get together to exchange their views.
As always, the Cité de l'Economie – whose director, Gérard Kremer, is a member of the Scientific Council of Economics Meets History – is organising a special event as part of the festival. This year's format will be slightly different, however, with high school students and teachers taking part, along with Stéphane Frachet, a journalist from the financial daily Les Échos
"What does an economist's job involve?"
Thursday 6 October from 9.30am to 11.00am, Amphi Rouge, CCI Campus.
Economists have played an increasingly prominent role in public debate in recent years, so much so that they have now become indispensable. But economists are not a homogenous group, and their work involves much more than merely providing media commentary on current affairs. In this conference, we take a look inside the world of the economist, with a group of students playing the role of journalists interviewing 3 economists about their jobs:
- Nadia Jacoby, Professor of Economics, University of Paris Paris I-Panthéon-Sorbonne;
- Éric Monnet, economist at the Banque de France;
- Olivier Passet, economist, Head of Economic Summaries at Xerfi.
The  programme for Economics Meets History also features conferences on themes such as: the global economy since 1945; common goods; tomorrow's jobs: nomadic or sedentary?; the sharing economy: an alternative to "uberisation"; tourism: a peaceful form of globalisation?; how can Europe face up to the challenges of globalisation?; should we give up on financial globalisation?; Europe: should we stay or should we go?; conquering the world: the internationalisation of companies; leaving… and coming back: offshoring and reshoring of production.
The overall programme for the Annual History Festival also includes various events combining this year's theme of "Leaving" with economics. Notably: French rural populations in the 20th century – a period of profound change; the history of holidays, or why do we have to go away?; moving to the colonies; the migration of money: from the Champagne trade fairs to the Panama papers; the Silk Road, from Han Wudi to Xi Jinping; leaving Rome, leaving for Rome: migration in a global empire?; environmental refugees.
Click here to view the full programme for Economics Meets History and the Annual History Festival.
To find out more, visit the website for the 19th Annual History Festival in Blois.
Published on 20 September 2016.