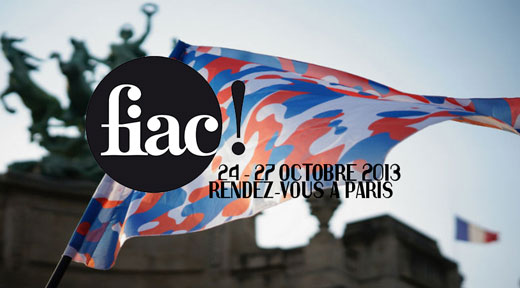 40th FIAC Art Fair: Contemporary Art and the Economy
The FIAC art fair is a leading event in the international modern and contemporary art calendar. Held at the Grand Palais in Paris, 2013's 40th anniversary edition brought together 187 galleries from 25 countries, and offered an exceptional programme of events both in Paris and throughout France (see programme).
To mark the fair, the Cité de l'Economie website posted links to a series of conferences organised by the FIAC on the theme of "art and sustainable development". It also included 3 data-visualisations on the subject of the art market.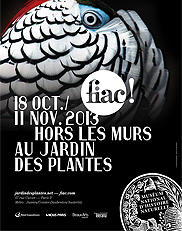 The FIAC organised a series of three conferences, in conjunction with the Paris Natural History Museum and COAL (the Coalition for Art and Sustainable Development). The theme was "Taking Action: Culture and Engagement", and the events took place from Thursday 24 to Saturday 26 October, in the auditorium in the Natural History Museum's Grand Gallery of Evolution:
- Thursday 24 October – 6 p.m. – "Towards a planetary conscience?"
With Camille Henrot, artist, Pierre-Henri Gouyon, professor at the Paris Natural History Museum, Jean-Michel Valantin, researcher in strategic studies and specialist in environmental geostrategy.
- Friday 25 October – 6 p.m. – "Combating the ecological crisis."
With Julia Rometti and Victor Costales, artists; Elise Demeulenaer, anthropologist and researcher at the CNRS (French Centre for Scientific Research); Catherine Larrère, philosopher, professor emeritus at Paris 1 University-Panthéon-Sorbonne and President of the French Foundation for Political Ecology.
- Saturday 26 October – 6 p.m. – "Building a more eco-friendly society."
With Michelangelo Pistoletto, artist; Robert Barbault, biologist, specialist in population biology and ecology, Director of the Dept. of Ecology and Biodiversity Management at the Paris Natural History Museum; Virginie Maris, philosopher, CNRS researcher at the Centre for Functional and Evolutive Ecology in Montpellier.
As the central focus of the FIAC fair is the art market, the Cité de l'Economie website included links to the following infographics and data-visualisations, created by Askmedia.
In the infographic below, the bubbles show the 320 most expensive artworks sold between 2008 and 2012: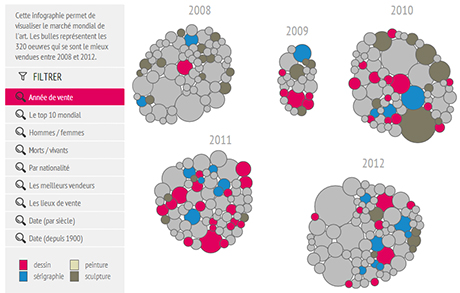 Source : Askmedia
The following chart shows the evolution of the art market over the past decade and the growing importance of China: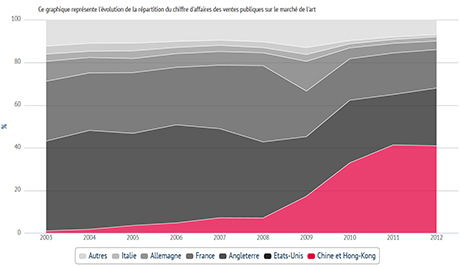 Source : Askmedia
The timeline below ranks the 50 artists whose works raised the most at auction between 2008 and 2012: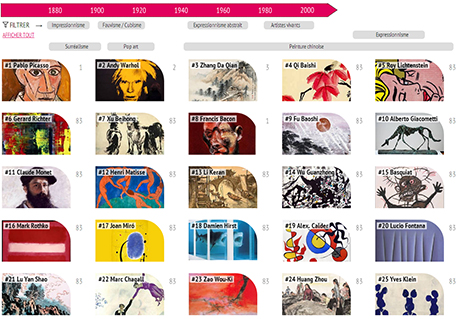 Source : Askmedia
Published on 2 April 2014.