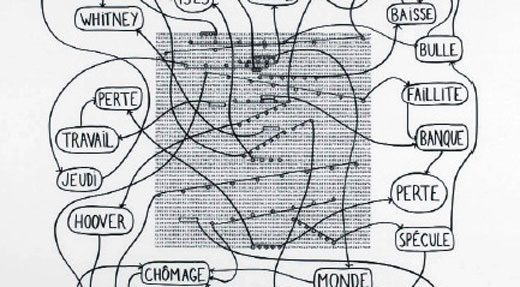 Economic words
The Pompidou Centre's public information library is running a series of conferences on the theme of the economy from 14 January to 5 June.
The aim of this series of events, led by economists, is to dissect common economic words and establish how they relate to major economic theories.
In February for example, Jean-Marc Daniel and Xavier Timbeau unpacked the words "money" and "speculation". Upcoming conferences:
- 8 April: Rigour or economic stimulation? by Olivier Passet, former director of economic services at the Commissariat Général au Plan (French government general planning commission, latterly the Conseil d'Analyse Stratégique (strategic analysis board)), and economic analysis director at Xerfi.
- 5 June: Sustainable development, a world to be reinvented, by Jean-Paul Maréchal, economics lecturer at Rennes II university (subject to confirmation).
Also of note are two events at Beaubourg focusing on links between art and the economy:
- 11 March: debate on Art and the crisis, from the New Deal to today.
- 21 and 22 March: two films shown as part of the "Real life" cinema festival. "Notre pain quotidien" ("Our daily bread") by King Vidor on 21 March and, on 22 March, a series of short films from the 1930s Great Depression era.
For more information go to Pompidou Centre's public information library
 
Published on 11 June 2013.