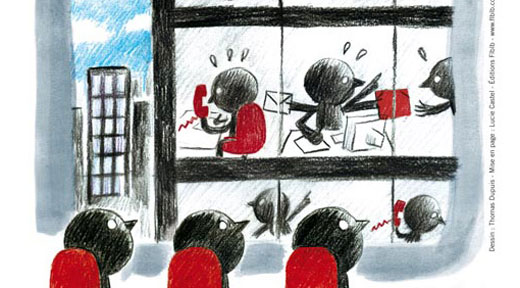 Filming work
After the Belfort "money" cycle in November 2012, the camera zoomed in on work, between 8 and 17 February 2013 in Poitiers.
The fourth edition of the "Filming work" festival taked an often critical look at various aspects of this major part of our daily life – a constant focus of political, social and economic debate.
Among the features of this year's festival are:
- An international competition with 11 documentaries exploring work contexts in businesses and sectors as far apart as farming, teaching, healthcare and transport.
- A close-up on major documentary makers, including F. Wiseman from the United States and French film makers C. Marker and N. Philibert.
- A "Film your work" competition open to entries until November 2012, for film makers using only a camcorder, a laptop or a camera.
- A debate on the theme "images of work, work on images", focusing in particular on two subjects: how the representation of workers has evolved, and the work of artists.
- An exhibition on safety in the workplace as seen through accident prevention posters.
This will be an opportunity to discover or revisit on the big screen major classics of the documentary genre, such as "Harlan County USA", "La ville Louvre", "Être et avoir" and "Le mystère Picasso", and from fiction too ("Le cirque", "Norma Rae" etc.)
For more information: Filmerletravail.org
Teaser of the 2013 festival:
Published on 10 April 2013.