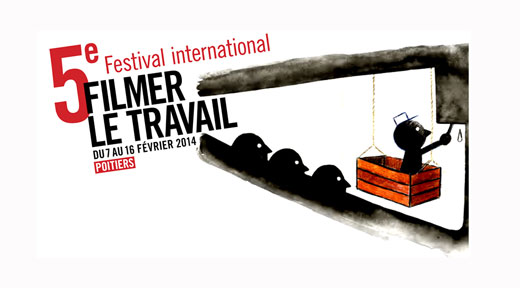 Filming Work 2014
The world of work was in the spotlight in Poitiers from 7 to 16 February 2014, for the 5th edition of the Filming Work festival.
This year, the camera took an often critical look at this major aspect of our daily life, which is a constant focus of political, social and economic debate.
Highlights of the festival included:
- An international documentary competition, with 23 entries exploring the themes of globalisation, industry and industrialisation, agriculture, office life, worker migration, integration, everyday tasks at work, the work of the artist, etc. In 2014, the jury awarded its first ever sixth-form prize.
- A retrospective of German cinema.
- The Film your Work competition, for entries filmed on a camcorder, mobile phone or camera.
- An exhibition of Gérald Bloncourt's photographs of workers in postwar France (from 7 February to 20 March 2014).
- A workshop entitled "Listening to Work" (sound documentaries)
For more details go to the festival website
Ad for the 2014 festival:
Published on 2 April 2014.