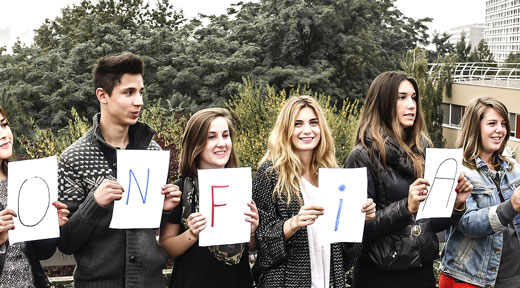 Photographing confidence
After the success of its "Euro exhibition" (2011, in conjunction with the ECB), and the exhibitions "A New Lease of Life for the Hôtel Gaillard" (early 2013, with the town council of Paris' 17th arrondissement) and "The Economy: Crash, Boom, Transformation?" (ongoing, with the Paris Science Museum), the Cité de l'économie et de la monnaie has launched a new project entitled "Photographing Confidence".
The project comprises a photography exhibition exploring representations of confidence. It also includes a teaching programme, organised in conjunction with the Académie de Lyon and two secondary schools from the Lyon area (La Martinière Duchère, Lyon; Jacques Brel, Vénissieux).
132 students took part in the project, which required them to examine the main theme of the 2013 Journées de l'économie (JECO) – confidence – through the artistic medium of photography. They were guided by the professional photographer Denis Lafontaine and by their teachers in social and economic science, philosophy and economics and management.
Their photographs were displayed in the main hall of the Chamber of Commerce and Industry throughout the JECO, and also featured as a talking point in the conference "How do we build confidence?" organised by the Cité de l'économie.
Click here for more details on the exhibition and on the 2013 JECO
 
Published on 13 November 2013.