All you need to know about economics
Last days ! Open on March 26, 2013 at Cité des sciences et de l'industrie (Paris), the temporary exhibition dedicated to economics " All you need to know about economics" closes its doors Jan. 5, 2014.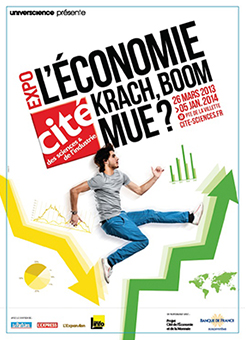 This exhibition seeks to convey, in an accessible language, several concepts and mechanisms in order to provide a better understanding of a topic which makes the headlines every day.
The exhibition is presented over a 1000 square meter area, making it France's widest show on economics so far. Playful and interactive, punctuated by films and individual and group games, the exhibition is divided in three parts:
- Who makes the economy? This segment of the show draws the portrait of the various kinds of economic actors : households, companies, the State, etc.
- How does the economy works? allows the visitor to get acquainted with market and non-market exchanges. On the agenda: supply and demand, the role of regulatory authorities, etc.
- What is the state of the world? broadens the debate to the following topics: growth and indicators of growth, crisis, sustainable development…
«All you need to know about economics» will be open until January 5, 2014. The entire exhibition is translated into English and Spanish.
Banque de France is the partner of the exhibition: as a matter of fact, the exhibition offers a preview of some of the educational tools which will be presented at its future Cité de l'Economie et de la Monnaie (City of Economics and Money) due to open in 2015.
These past 4 years, Banque of France has worked with Cité des sciences on several of the latter's exhibitions: "The Crisis and after?" in 2009, "Fake! Spotlight on counterfeit goods" in 2010 and "Euro exhibitionn" in 2011.
Teaser of the exhibition :
Published on 26 March 2013.