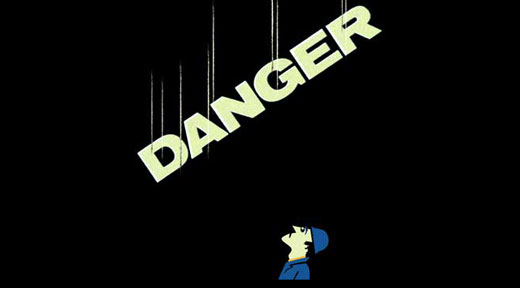 Danger! An exhibition of posters concerning the prevention of occupational accidents
Campaigns on safety footwear, on preventing electrical hazards, on warnings about falling objects, on awareness of psychosocial risks, etc.
Since its creation in 1947, the Institut national de recherche et de sécurité (INRS - National Research and Safety Institute for occupational accident prevention) displays its posters and mes¬sages in workplaces. Their contents, the type of risks addressed, the way of communicating with employees, the perception of employees, and the graphic codes used have all constantly evolved to reflect changes in the working world, companies, the economy and society.
The exhibition "Danger! Trésors de l'Institut national de recherche et de sécurité" ("Treasures of the INRS") will run until 7 Sep¬tember 2014 at the Musée des arts et métiers of the CNAM (Conservatoire national des arts et métiers) in Paris. It brings together around 30 remarkable posters, published between 1960 and 1980.
The exhibition also includes 15 alterations, new works by the artists, who organised the exhibition, Cizo and Felder, of the collectif Ferraille.
In connection with this exhibition, the CNAM proposes a family workshop (for 7-12-year-olds and their parents), a booklet for school visits, and projects carried out by students from the Université Paris-Est Marne-la-Vallée. Two conferences on security in the workplace were also organised. They can be viewed on the museum's website.
Further reading: the book "Danger ! Trésors de l'Institut national de recherche et de sécurité", published by Requins Marteaux (2012), with 200 INRS posters.
For further information on the website Musée des arts et métiers du CNAM
........................................
Credit : INRS / Bernard Chadebec - 1971 - 1976 - 1983
Published on 20 October 2014.