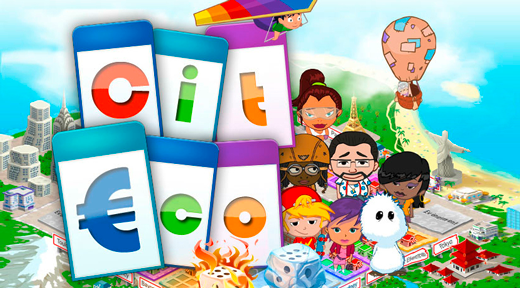 Cit€co: a guide for teachers
Cit€co is the first serious game developed by the Cité de l'Économie et de la Monnaie.
Available on Facebook, it's an educational game aimed at ages 15 and up.

For teachers, we've included a teaching guide, opposite, with background information and context that will help you incorporate the game into your lessons.
The guide notably highlights the following points:
- Cit€co is primarily a game, even if it calls into play certain behavioural skills that can be used in a limited learning context;
- Cit€co is also a serious game that gives pupils their first taste of economic themes and can motivate them to study the subject further;
- The content of Cit€co was developed with educational programmes in mind (the main links between its content and these programmes are listed in the guide);
- Cit€co is evolving all the time, and players are asked to post comments and suggestions that will be examined closely and taken into account for the new version, due in the autumn of 2013.
Advertisement for the game



Click here to find out more about Cit€co and play the game
Published on 11 September 2013.