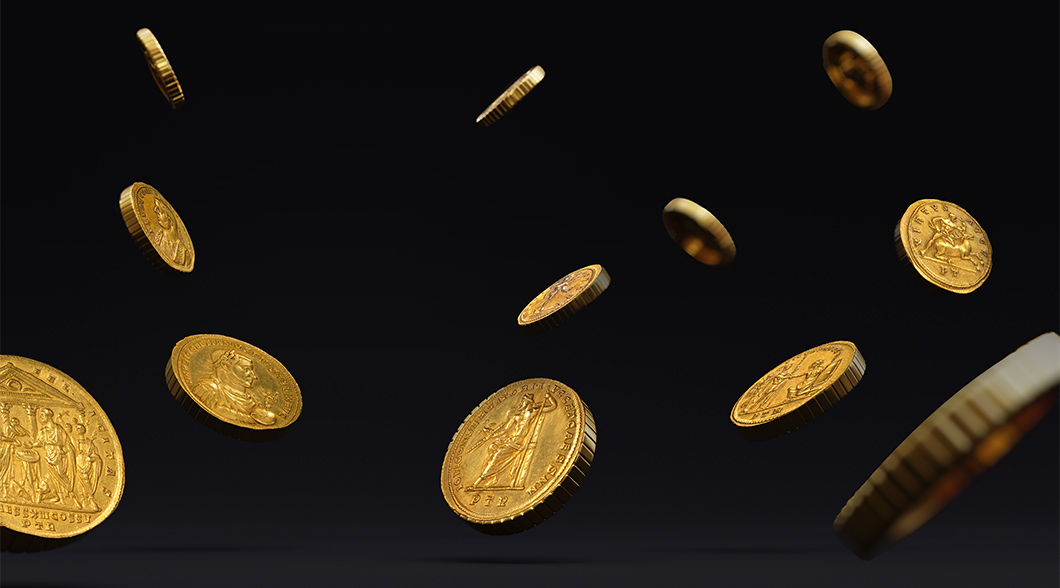 The "Trésors" exhibition sets up a dialogue between the ancient coinage of the Beaurains Treasure and a contemporary work based on coins by the artist Sabine Pigalle.
The Beaurains Treasure

The Beaurains Treasure is an exceptional collection of coins, jewels, and silverware, discovered by chance in 1922 by Belgian workers. In September 2022, it arrived at Citéco to be in an exceptional exhibition in the museum's strongroom.
The collection, listed as a National Treasure, is a unique opportunity to discover state jewels and coins from a long-ago period of which the proofs have been mostly recast. That makes it the least-known item, in our time, of Roman coinage and imperial largesse.
Contained in two vessels, one made of terracotta and the other of silver, the Beaurains Treasure originally contained hundreds of gold coins (aurei) and silver coins (denarii) from the Early Roman Empire, thirty gold multiples and over 400 gold coins (aurei and solidi) from the Late Roman Empire, ten argentei and sixty silver quinarii from the Late Empire, gold jewels (necklaces, bracelets, rings, earrings, etc.), a silver chandelier, a silver spoon, etc.
The Treasure of Beaurains - A fabulous destiny
The Treasure of Beaurains - From the small to the big story

"New Economy" by Sabine Pigalle.

The New Economy series poses the question of globalisation faced with the paradigm change due to the pandemic. The rough period being experienced by humanity causes economic disturbance around the world. In particular, it is a threat to trade exchanges, and it is a de facto impact on the fragile equilibrium linked to that system across entire countries. Metaphorically speaking, the series recycles coins struck with the effigies of historical or contemporary leaders, political leaders, and mythical figures, embodying divergent or even contrary political and economic opinions. Those symbols are now masked, and they seem to all agree on one point: an epoch that is close to asphyxiation.
Sabine Pigalle : Born in France in 1963 and living in Paris, Sabine Pigalle followed a Humanities / Liberal Arts course at the University of Paris – Sorbonne. Pigalle is a visual artist whose preferred medium is photography, and she is line with the trend of a new generation that finds its way through the turbulent overlapping areas between reality and fiction. The main strands of her work question myths, heritage, the notion of time, and collective memory, and they focus on the portrait treated as a representation of offset archetypes. A kindred spirit of the Post-Photographic Movement, she produces cross-cutting works that blend paintings, photographs, ancient art, contemporary art, figuration, and abstraction. On 22 June 2022, she was awarded the Ordre des Arts et des Lettres.
Published on 19 September 2022.