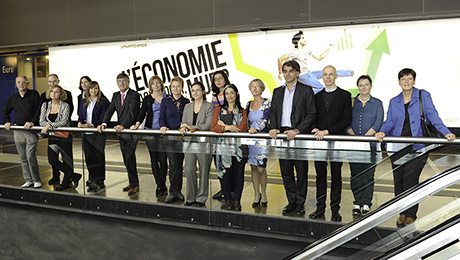 The central bank museums of the EU
On October 3 and 4, 2013, the Banque de France hosted a meeting of heads and experts of EU central banks museums and visitor centers.
Participants – which included members of the team in charge of the Cité de l'économie et de la monnaie (City of economics and money) project – exchanged views on their experiences and projects regarding the museography of economic and monetary matters.

They also used this opportunity to visit (see photo) the temporary exhibition on economics on view, until January 5, 2014, in Cité des sciences in Paris (a Universcience exhibition in partnership with the Cité de l'économie).

You may visit herafter the webpages providing information on central bank museums in the following cities of the EU:
Published on 16 October 2013.