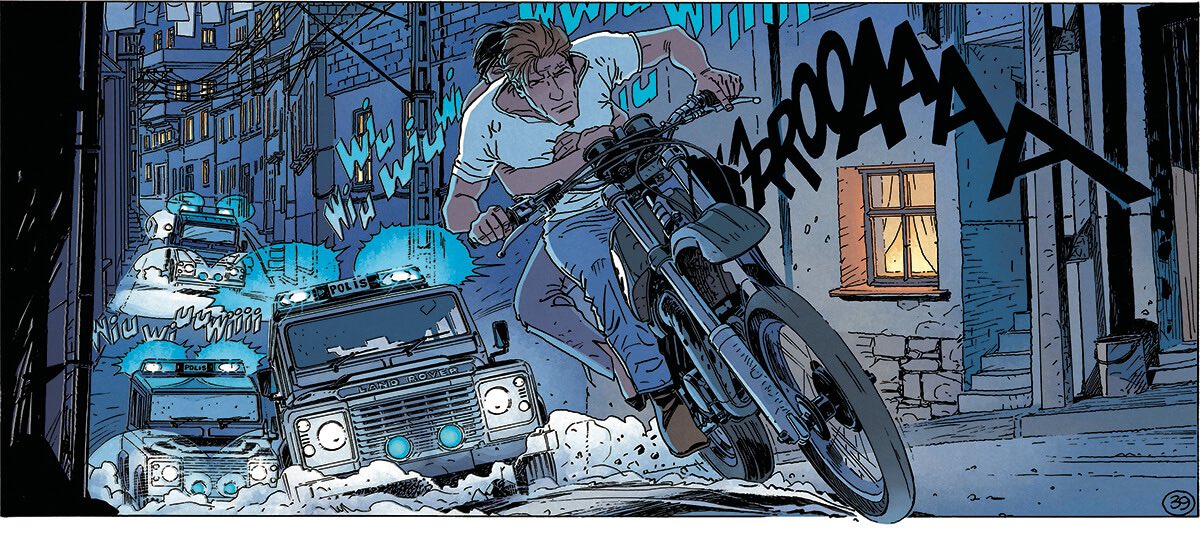 To celebrate the 30th anniversary of the famous comic book saga written by Jean Van Hamme and illustrated by Philippe Francq (published by Dupuis), Citéco was initially scheduled to host from 17 October 2020 to 10 February 2021 an exceptional temporary exhibition specially designed for the museum, "Largo Winch, economic pathfinder", which explores the links between the humanist multibillionaire and the key themes shaping the economy.
EXHIBITION LAYOUT
The quality of the Largo Winch series stems first and foremost from its fast-paced, straightforward plots with punchy dialogue that enables us to easily grasp the basics of economics, as well as a touch of humour, thanks to finely honed, perfectly captured characters who evolve in stories shot through with a hint of social satire. Largo Winch above all reveals that managing an empire like the W Group is a thrilling and rewarding adventure with twists galore, as well as a whole host of opportunities for sharing one's values and enthusiasm.

In the first room, visitors will find out more about the authors behind this enthralling saga; the second introduces us to Largo Winch and the people around him – friends and enemies alike; the third unveils the main cities his adventures bring him to and, last but not least, the fourth delves into how, in the thirty years since the first album was released, economics has been impacted by the myriad social and technological changes and upheavals, and how this is conveyed in the 22 albums relating the humanist billionaire's adventures.
THE ECONOMIC FACTSHEETS
The Largo Winch series examines the modern-day economy from a human perspective, through a character who is a bit of an idealistic "boy scout", with this paradox: when you inherit an industrial and financial fortune, what perception can you truly have of social reality? How do you view fairness? Justice?
How can you change events and, crucially, to what end?
What hopes and goals can an ultra-high-net-worth individual have apart from living off their private income? And last but not least, does a rich man deserve to be happy?
Is a company manager with a host of responsibilities allowed to have a taste for adventure?
The exhibition sets out to answer these questions in chronological order.
Download our factsheets which unpack the ins and outs of economics in Largo's world.
THE AUTHORS
PHILIPPE FRANCQ
In just a few albums, Philippe Francq carved a reputation out for himself as one of the greatest realistic illustrators of his generation. He studied at Brussels' Institut Saint-Luc in the graphic design section before joining the comic book studio run by Claude Renard, François Schuiten and Philippe Berthet. He then honed his skills at the Hergé studio with Bob de Moor. Heeding the advice of the best Belgian realistic illustrator of his time, Hermann, with Bob de Groot writing the script he published two albums for the series Des Villes et des Femmes (1987) followed by another two for the Léo Tomasini series (1988) with Francis Delvaux. A meeting with Jean Van Hamme in 1989 saw the latter ask him to illustrate Largo Winch.
His draughtsmanship is in the tradition of the Belgian school and that of Hergé: precise, perfectly executed in the attitudes of the characters, fabric folds and drapery, architecture, cars, boats, aircraft... And jet-set scenes. It is very carefully documented, each album being subject to location research, often shored up by a reporting assignment at the site where the adventure is taking place, where Philippe Francq takes thousands of photos. At times, Jean Van Hamme has given him pictures that he had personally taken during his travels. When it's time to put pencil to paper, the first stage involves sketching the scene, laying out what it will look like, as clearly and fluidly as possible; then comes the inking stage which, since the 15th album, has been done on a graphics tablet, which sets the drawing in stone as it were. The final stage involves adding colour, "when light fills the picture".
Over 30 years, just like Hergé's Tintin back in the day, he has described the era (computers, mobile phones, architecture, etc.). "Details make perfection, and perfection is not a detail…" In Largo Winch's adventures, Philippe Francq has truly made this aphorism of Leonardo da Vinci his own, with each scene retaining its truth and emotion thanks to a drawing that is a masterpiece of perfection. The exhibition displays more than 40 outstanding original illustrations.
ÉRIC GIACOMETTI
Éric Giacometti was an investigative journalist before becoming deputy editor of the "society" then "economics/finance" sections in the leading national daily newspaper Le Parisien / Aujourd'hui en France. In 2005, he teamed up with his friend Jacques Ravenne to create the successful thriller about the freemason cop Antoine Marcas (published by Jean-Claude Lattès), a series that has been translated in 18 countries and has sold nearly three million copies. He produced a graphic novel version of it with illustrations by Gabriele Parma and then by Éric Albert (published by Delcourt). In 2016, his longtime friend Philippe Francq asked if he wanted to take over the writing for Largo Winch after Jean Van Hamme decided to stop. What a challenge! But thanks to his experience as a novelist, he was able to analyse the Largo albums "with a professional eye". The series was initially set against the economic backdrop coming out of World War II. He therefore set himself the task of ushering it into a new era. For him, Largo Winch, the recalcitrant billionaire, is Spartacus who becomes Caesar.
On 6 May 2010, while still a journalist for the economics section of Le Parisien, Éric personally witnessed the flash crash of the New York stock exchange, caused by high-frequency trading, and he drew inspiration from this for l'Étoile du matin.

Published on 7 December 2020.