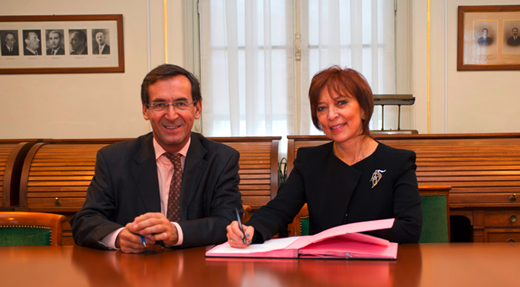 Museo Interactivo de Economia – Cité de l'Économie et de la Monnaie Partnership
Mexico's MIDE – the Museo Interactivo de Economia (Interactive Museum of the Economy) – and the Banque de France have signed a partnership agreement founded on their shared aims of promoting teaching and awareness about the economy through museum exhibitions.
MIDE, formed in 2006 by the Central Bank of Mexico, is the world's first interactive museum dedicated to the economy.

Signature of the partnership agreement took place on 12 November 2012 in the presence of Silvia Singer-Sochet, the Managing Director of MIDE, and Marc-Olivier Strauss-Kahn, Director General, Economics and International Relations at the Banque de France and Chairman of the Scientific Council and Steering Committee for the Cité de l'Économie et de la Monnaie.

The aim of the partnership is to tighten the already very strong links between the two organisations and continue to enrich their respective teams through new collaborative efforts and exchange of best practices.

For further information on MIDE, visit the website:
http://www.mide.org.mx/mide/​

MIDE video presentation (spanish language):
Published on 11 April 2013.