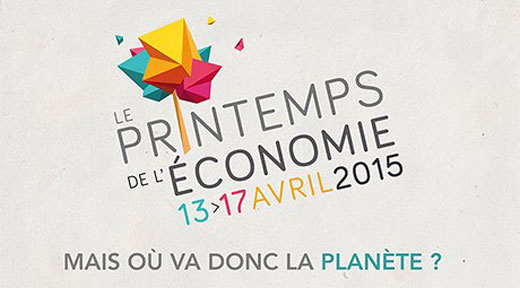 Spring economy 2015
The association "Les économiques" organised the third edition of the Printemps de l'Économie held in Paris from 13 to 17 April 2015. The aim of this event is for the general public to meet economists and learn all about the economy.
This year, the topic was: "Where is our planet heading?". The speakers attempted to explore the main challenges of the 21st century through roundtables, café-debates or master classes.
The topics debated included: climate change, energy transition, growth, well-being, innovation, enterprise, globalisation, the digital economy, currencies and finance, inequalities, employment, etc.
In the run-up to the Printemps de l'Économie, the Cité de l'économie organised, together with Gamelier, a game jam on the economy.
The Institut pour l'éducation financière du public (Institute for the Financial Education of the Public – IEFP)/La finance pour tous (Finance for all – partner of the Cité de l'économie) organised one of the debates of this event, dedicated to crowdfunding.
For further information about the programme and the speakers at this event: see in French the website Printemps de l'Économie.
Published on 15 October 2015.