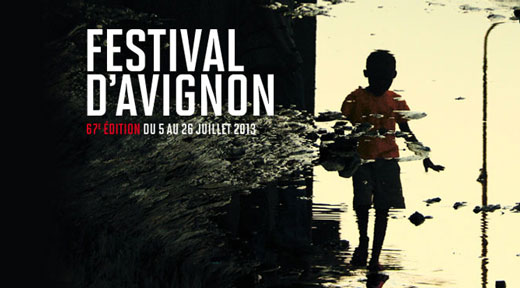 Avignon 2013
This year, for its 67th edition, the festival included four plays and an exhibition which took an often critical look at the economy.
"Par les villages" ("Through the Villages" by Stanislas Nordey, based on a text by Peter Handke) tells the story of a reunion between two brothers and a sister after they inherit a family home. The play is a collision of two worlds: the rural world of labourers and workers, and the world of the city and its intellectuals. From 6 to 13 July.
"L'argent" ("Money" by Anne Théron based on a text by Christophe Tarkos) examines the different words used to describe money. In a world where money is omnipresent and increasingly virtual, the play tries to show how it has become an inseparable part of our lives. From 22 to 25 July.
In "Lagos Business Angels", the Rimini Protokoll theatre company transforms the theatre into a huge trade fair. The aim? To organise a meeting between audience members and "experts" on the Nigerian market, and break down received wisdom on North-South economic relations. From 14 to 16 July.
"Faust I + II" (the full version of Goethe's famous tragic play, produced by Nicolas Stemann): written at the start of the Industrial Revolution, Goethe's Faust explores the theme of financial and ecological disasters. "A dizzying theatre journey into the psychological, political and economic depths of humanity". From 11 to 14 July.
Lastly, "Le jeu de l'oie du spectacle vivant", ("The Game of the Goose in Theatre"), is an exhibition-trail designed by Julien Fournet, that looks at the economic workings behind the theatre, its production methods and ups and downs. From 16 to 24 July.
For those who want to learn more about the economy, money and the world of business and finance in theatre, the Cité de L'Economie et de la Monnaie has compiled two bibliographies: "Le théâtre de l'entreprise" ("The theatre of business") and "Argent et finance au théâtre" ("Money and finance in the theatre").
To find out more, click on 2013 edition of the Avignon Festival
 
Published on 5 September 2013.