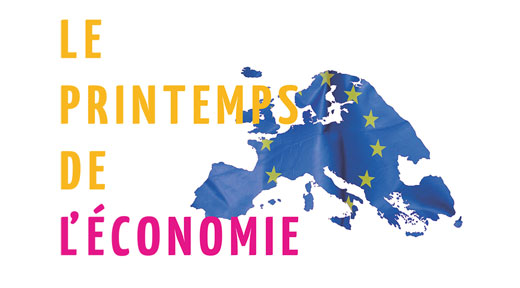 Spring economic 2014
The association "Les économiques" organised the second edition of the Printemps de l'Économie held in Paris from 7 to 12 April 2014.
The aim of this event is for the general public to meet economists and learn all about the economy.
In 2014, one and a half months before the European elections, the debate was entitled "The European spring: Europe, a problem or a solution?" During the course of fifteen or so roundtables, debates and educational workshops, the invited economists and other prominent figures attempted to identify the strengths and weaknesses of the European Union and the euro area.
The topics debated included: Europe's subdued growth, Europe's role in globalisation and international trade, Europe's economic, industrial and competition policies, the euro, the sovereign debt crisis, Banking Union, energy transition, the social model, and the governance of European institutions.
It should be noted that the Institut pour l'éducation financière du public (Institute for the Financial Education of the Public – IEFP)/La finance pour tous (Finance for all – partner of the Cité de l'économie) organised one of the debates of this event. The topic was: "The Banking Union: remedy for the crisis? ".
More information on the programme and the participants of this event is available in French on the website of the Printemps de l'Économie
Published on 20 October 2014.